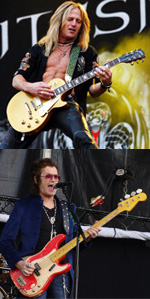 Alors que David Coverdale vient de sortir avec Whitesnake  » The Purple Album » (Frontiers Music) où il reprend ses plus grands faits d'arme au sein de Deep Purple (15 chansons extraites de « Burn », « Stormbringer » et « Come Taste The Band », revisités à la sauce Hair Metal), voilà que son ex comparse montre lui-aussi le bout de son nez.
Glenn Hughes (basse et deuxième voix sur les mêmes albums) annonce un tournée mondiale en solo, où sans doute il reprendra lui aussi du Deep Purple Mark III & IV. Et qui va jouer de la guitare? Et bien, c'est Doug Aldrich qui s'était fait virer de Whitesnake juste avant l'enregistrement du « Purple Album »! Drôle, non?
Le second semestre 2015 verra donc Deep Purple, Whitesnake et Glenn Hughes fouler les scènes du monde entier pour le plaisir des amateurs du Pourpre Profond.